Road Maintenance
What is Road Maintenance and why it's necessary?
Roads are of vital importance to make a nation grow and develop, they form vital links between production centers and markets. Building new roads cost money, but without maintaining the roads properly, they deteriorate very quickly. If nothing is done, roads with a design life of decades can need replacing or major repair work after just a few years. A long-term funding plan for maintenance is therefore necessary.
Preventive Maintenance is Perform to improve or extend the functional life of a pavement. It is a strategy of surface treatments and operations intended to retard progressive failures and reduce the need for routine maintenance and service activities.
Corrective Maintenance is Perform after a deficiency occurs in the pavement, such as loss of friction, moderate to severe rutting, or extensive cracking. May also be referred to as "reactive" maintenance.
Types of Road Maintenance Treatments
Crack repair /sealing
Crack repair /sealing is a localized treatment method used to prevent water and debris from entering a crack, which might include routing to clean the entire crack and to create a reservoir to hold the sealant. It is only effective for a few years and must be repeated. However, this treatment is very effective at prolonging the pavement life. Includes the following three crack repair methods (sealing, filling, full depths crack repair):
Clean and seal
Used on all types of cracks, it involves using a hot air lance or compressed air to blow out the debris in the crack, then filling with a sealant. Crumb rubber Modified bitumen that we produce in Ziggurat oil is very effective in the clean-and-seal method.
Saw and seal
Involves using a pavement saw to create transverse joints at regular intervals along a newly placed pavement, then filling with a sealant.
Rout and seal
Used on transverse and longitudinal cracks. Involves using a pavement saw or router to create a reservoir centered over existing cracks, then filling with a sealant.
Crack filling
Differs from crack sealing mainly in the preparation given to the crack prior to treatment and the type of sealant used. Crack filling is most often reserved for more worn pavements with wider, more random cracking. Asphalt emulsion can be used as a crack filler. Hear in Ziggurat Oil we supply Asphalt Emulsions such as CSS-1, CSS-1h and SS-1h that use for crack filling.
Full-depth crack repair
A localized treatment method to repair cracks that are too deteriorated to benefit from sealing. Secondary cracking requires the reestablishment of the underlying base materials.
Fog seal
An application of diluted emulsion (typically at a rate of 1:1) to enrich the pavement surface and delay raveling and oxidation. Considered a temporary treatment. Slow-setting asphalt emulsion may be used for Fog seal.
Seal coat
Used to waterproof the surface, seal small cracks, reduce oxidation of the pavement surface, and improve friction.
Double chip seal
An application of two single seal coats. The second coat is placed immediately after the first. This treatment waterproofs the surface, seals small cracks, reduces oxidation of the pavement surface, and improves friction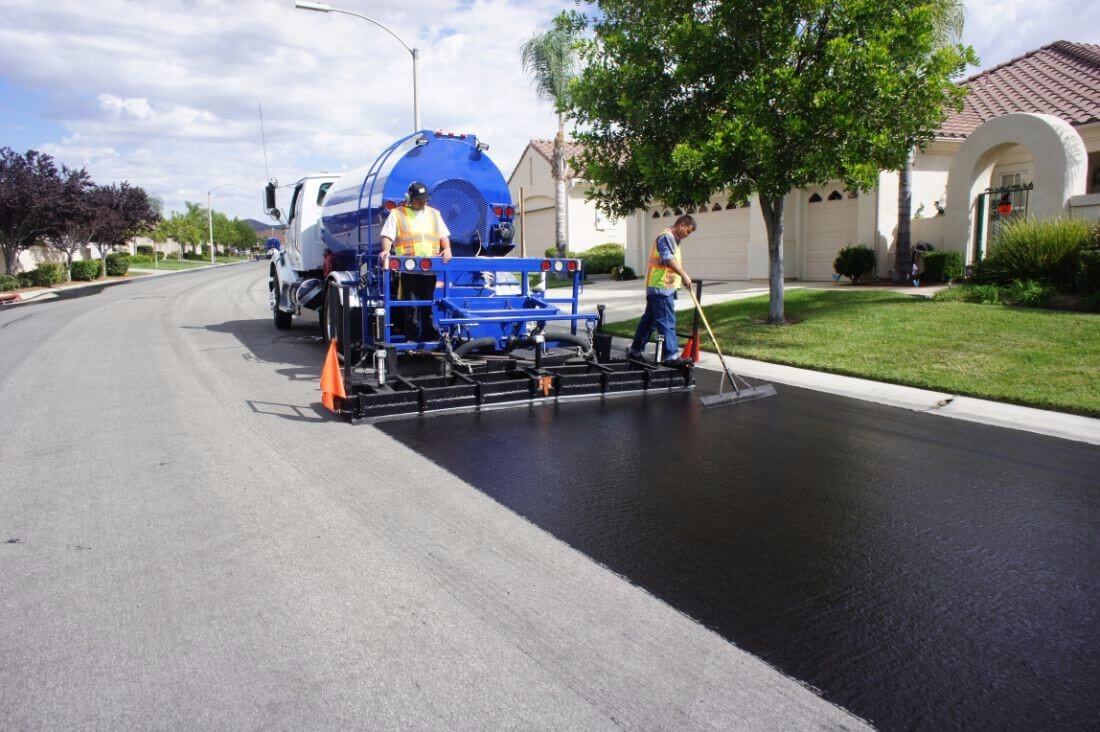 Slurry seal
A mixture of fine aggregate, asphalt emulsion, water, and mineral filler, used when the primary problem is excessive oxidation and hardening of the existing surface. Slurry seals are used to retard surface raveling, seal minor cracks, and improve surface friction.
Microsurfacing
Commonly referred to as a polymer-modified slurry seal; however, the major difference is that the curing process for microsurfacing is a chemically controlled process, versus the thermal process used by slurry seals and chip seals. Also, may be used to fill ruts.
Thin hot-mix overlays
Includes dense, open, and gap-graded mixes that improve ride quality, reduce oxidation of the pavement surface, provide surface drainage and friction, and correct surface irregularities.
Pothole patching
Includes using cold- and hot-asphalt mixture, spray injection methods, as well as slurry and microsurfacing materials, to repair distress and improve ride quality.
Table 1 lists each type of maintenance technique along with reasons for using each one:
Asphalt Maintenance Techniques & Treatments
Technique
Reasons for Use
Average Treatment Life (years)
Friction
Raveling
Rutting
Potholes
Cracking
Low
Med
High

Crack treatments

Crack repair with sealing

Clean and seal

X
X
3

Saw and seal

7-10

Rout and seal

X
X
3
Crack filling
X
X
2-3
Full-depth crack repai
X
5

Surface treatments

Fog seal
X
1-2
Seal coat
X
X
3-6
Double chip seal
X
X
7-10
Slurry seal
X
X
3-5
Microsurfacing
X
X
X
5-8
Thin hot-mix overlay
X
X
5-8

Pothole and Patching Repair

Cold-mix asphalt
X
1
Spray injection patching
X
1-3
Hot-mix asphalt
X
X
3-6
Patching w/slurry or microsurfacing material
X
X
1-3
Type of Crack
Treatment
Full-depth crack repair
Crack Repair w/sealing
Crack filling
Patching
Chip seal or seal coat
Thin hotmix overlay
Clean and Seal
Saw and seal
Rout and seal
Alligator
Low severity
X
Medium severity
X
High severity
X
Transverse
Low severity
X
X
X
Medium severity
X
X
X
X
High severity
X
X
X
X
Longitudinal
Low severity
X
X
X
Medium severity
X
X
X
X
High severity
X
X
X
Block
Low severity
X
X
X
Medium severity
X
X
High severity
X
X
X
Reflection
Low severity
X
X
Medium severity
X
X
X
High severity
X
X
X
X
Type of Distress

Treatment

Patching

Fog seal

Seal coat
Double chip seal
Slurry seal
Microsurfacing

Thin hot-mix overlay

Potholes

Low severity

X

Medium severity

X

High severity

X

Patch deterioration

Low severity
Medium severity

X

High severity

X

Surface Defects

Rutting

Low severity

X

X

X

Medium severity

X

X
X

X

High severity

X

X

X

Shoving

Low severity
Medium severity

X

High severity

X

Bleeding

Low severity

X

X
X

X

Medium severity

X

X
X

X

High severity

X

X
X
X

X

Polished aggregate

Low severity

X

X
X

X

Medium severity

X

X
X

X

High severity

X

X
X
X

X

Raveling

Low severity

X

Medium severity

X

X

High severity

X

X
X
X
X

X